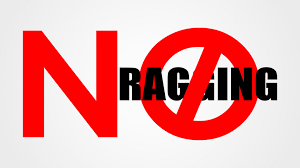 Ragging is a serious offence that any misbehavior either by words or by an act which is teasing or harassing a student is considered Ragging. The indiscipline activities which cause or may cause physique or psych hardship to raise fear, anxiety or dread; asking money or other things; compelling the student to act or to perform something which has the effect of causing or generating a sense are treated as Ragging. Moreover asking name in a rude way will also be considered Ragging.
Ragging is a serious non-bailable offence and it requires criminal procedure. If any incident related to Ragging committed within the campus or otherwise, the principal will report to the police station and the suitable disciplinary action will be taken against the offender. Anti-ragging committee shall be headed by the head of the institution and shall consists of representatives of faculty members, students, belonging to the freshers' category as well as seniors and non teaching staff. It shall consider the recommendation of the anti ragging Squad and take appropriate decisions, including spelling out suitable punishments to those found guilty.
Objective of Committee
To design strategies and action plan to avoid ragging.

To aware the students of dehumanizing effect of ragging inherent in its perversity.

Indulging in rowdy or indiscipline activities by any student or students which causes or is likely to cause annoyance or psychological harm or to raise fear or apprehension thereof in any fresher or any other student.

To keep a continuous watch and vigil over ragging so as to prevent its occurrence and recurrence.

Punishing those who indulge in Ragging as provided for in these Regulations and the appropriate law in force.
In Art's and commerce College, Makhmalabad as per UGC guidelines of Savitribai Phule Pune university, the following Anti-Ragging Committee has formed for the academic year.
| | |
| --- | --- |
| Name | Designation |
| Prin. Dr. V.S. Kale | Chairperson |
| Dr. M. K. Aher | Coordinator |
| Dr. V. S. Rajole | Member |
| Dr. S. S. Patil | Member |
| Mrs. K.N. Wagh | Member |
| Ms. Snehal Balasaheb Pingale | Student Representative |